Double Ya Luck Slots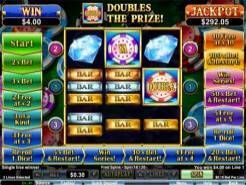 Current Jackpot
$1,002.80
Play Now
Welcome to Double Ya Luck Slots ! Experience an extravagant world of riches which will be double the rewards that you expect. Discover an exciting land of Dice, the Cherries, and the Chips. In Double Ya Luck Slots all of your wildest dreams will come true making you doubly rich and wealthy. Double Ya Luck Slots takes you to a whole new world of riches that is quite unlike any other world which you have ever known. Become famous and rich and let your troubles flow away in this Double Ya Luck Slots game.
Have you ever wondered what it feels like to be very rich and have a large fortune and to be famous as well? Enjoy your favourite game wandering around in this beautiful luxurious world. Emerge yourself in this wonderful tale of riches in a world of fame and fortune and get down to playing this game to win riches and then win some more to make you doubly lucky. Sounds too good to be true?
Then get ready to be rewarded in this game of riches in this 3-reel slot. Participate in this luxurious fun with 3 pay lines. To add to the excitement of the game, there are double paying Wilds and Free Spins, and Double Ya Luck Slots is packed with the type of rewards that you'd expect from from a monster sized slot machine.
You can win 10,000 your bet per line and there are two feature games which will change the way you think about pay outs and so much more. There is also a jackpot in Double Ya Luck so good fortune is really coming your way.
You can randomly win a progressive at any time during the game. Progressive jackpots can pop up at any given time and these will increase your winnings dramatically! The more games you play the more chances you have of winning the progressive jackpot. In Double Ya Luck Slots the progressive jackpot can be triggered at any random time during play. So what are you waiting for?
This is a 3-line game so that you can bet from 1 to 3 lines. You can also bet from as little as 5 cents to as much as $5 per line. To make your selections, use the up and down arrows that are to the left and to the right of the Bet button and the Lines button. To lock in your bet, simply click the Spin button which is located to the right of the Lines button. When the reels come to a halt, you will get paid out for matching the right symbols.
In Double Ya Luck Slots, Ya and Luck , and the Dice symbol are scatter symbols. The Double symbol can substitute for all other symbols in the game except for the 7 symbol and the scatter symbols. Hit the Double, Ya and Luck symbols on the first three reels and you will get to play a special 50/50 bonus game.
You can play Double Ya Luck Slots manually or else you can opt to press the Auto play and the game will run automatically for you. Sit back and watch as your winnings pile up automatically. This actually makes your game go faster and whenever you decide you do not want to use Auto play anymore, all you have to do is to stop it manually. Alternately, Auto play will automatically stop when you run out of money.
You can play this game for fun money in order to practise Double Ya Luck Slots and gain experience in this game. When you feel that you are confident enough to try your luck, you can then switch to real money.
Double Ya Luck Slots is a game of luck. In order to see results and win big you need to have patience and play for an extended period of time. It is important that you put aside an amount of money to play with and not to go over that amount. When you have played it all, that is your limit, do not bring out any extra money. This way you can control how much to play and know your limitations. Know when to stop. When the fun stops - stop! Stopping at the right time can make a difference between having fun and losing money by going over your limit.
So what are you waiting for? Start playing Double Ya Luck Slots today and emerge yourself in this idyllic, rich world like no other, mingling with the millionaires and the wealthy people. Discover the treasure that lies within, and increase your possibilities of winning and uncovering free games. Take part in the Random Progressive Jackpot when you least expect it and have a great time playing Double Ya Luck Slots!