Loose Caboose Slots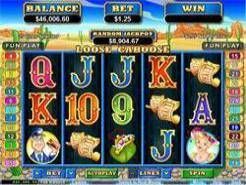 Current Jackpot
$2,604.99
Play Now
And if you do, would you know about it?! We wondered what on earth that title meant, even though it is catchy and intriguing. It turns out a caboose is the wagon pulled by a train, so we guess if it is loose, it might soon be left behind. That wouldn't be good, so what will happen in this slot to tell us more? We are in the reliable hands of RTG for this game, and although it is an older title it is still good fun to play.
Combination of reels and win lines
25 lines are available to win some prizes on in this slot, which means you can guess at five reels in play.
Coin values to consider
If you like games offering coins from a cent all the way to five dollars, you will get just that here.
Loose Caboose special symbols to look for
We know now that a caboose is a train wagon, and it appears on the reels as a scatter symbol. An engineer pops up during play as well, and while we guess he would be in a bad mood at finding a loose caboose on his train, we don't mind – he is the wild, after all. The engineer is good for replacing other things to help scoop some prizes, but he will also secure 5,000 coins for you if he appears in every spot on a paid line.
Bonus features
Do you want to play a feature called the Cash Train? We sure would. Three cabooses will trigger the Cash Train to move along the top of the reel set. This action will reveal a prize, perhaps more than one, for you to secure. You may well receive some free games as the train moves along, and if you are lucky you could get a multiplier as well. The Cash Train is secretive about its generosity, so watch it closely and see what it leaves in its wake…
Download and play the Loose Caboose slot today
The Cash Train feature is yet another example of how RTG slots often put a different spin on a free spins feature. It's great because it ties into the theme once more – just as so many more of their free spins features do. If you want to try an older game that still performs well today, Loose Caboose is the one.