Aztec's Treasure Feature Guarantee Slots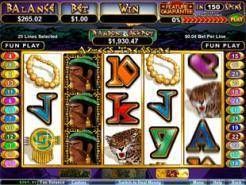 Current Jackpot
$3,236.57
Play Now
A feature guarantee sounds like something positive, don't you think? We can confirm it is, and it forms a crucial part of the Aztec's Treasure Feature Guarantee game from RTG. You may already have seen the original game this one is based on - simply called Aztec's Treasure - but if you get to choose between the two, this is the one to go for.
Combination of reels and win lines
This part of the game takes on the same format as many other RTG slots do, with five reels and 25 lines in action.
Coin values to consider
Coins from RTG for their slots are often familiar too, and here they go from a cent to five dollars apiece.
Aztec's Treasure Feature Guarantee special symbols to look for
There are two important symbols to look for. The first is the Aztec King, who takes on the role of substitute. The scatter is the second important one, and it is shown as an idol.
Bonus features
The idol is the one to watch out for if you want to win some free games. Three, four, or five are required to get five, 15, or 25 free games. No matter what the outcome is there, each free spin carries a 3x multiplier for all prizes won. Furthermore, additional free games are offered - between one and 25 a time - whenever one or more idols are discovered during the first set of free games.
So, we should move on to the Feature Guarantee, shouldn't we? This guarantee is in place to ensure you trigger the free games element of Aztec's Treasure once you have played 150 spins. There is a chance it may trigger sooner than that if you can find enough idols, but if things don't go your way, you can simply play until you hit the 150 spins required to play the free games.
Download and play the Aztec's Treasure Feature Guarantee slot today
Several RTG slots now include the Feature Guarantee element, which makes them more interesting to play if you are intending to settle in for a longer session anyway. If not, you'll simply play the game as normal and hope to get those free games sooner.
If that happens, you get a chance to win more on top of your triggered amount, so it could be a nice game to play however you get there.