Dream Run Slots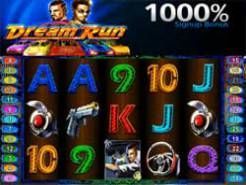 Current Jackpot
$6,207.68
Play Now
You are in the middle of a race in Dream Run Slots in a 94-octane gasoline machine and you are racing as if your life depends on it. Hop into the driver's seat and throttle the gas pedal to pick up an amazing speed that will drive you wild in the hairpin bends of the road. Beat the other drivers and reach speed limits you have never reached before in this exciting and challenging game of Dream Run Slots.
You are in the middle of a race in this 5 reel, 25 pay line slot machine adventure where all the roads are paved with riches. You are Dick Withington where the roads are paved with gold and it is up to you to be able to pick up the riches lying there just to be picked up by you. Can you do it? Can you pick up as much cash as possible before tearing away down the road to beat the other drivers in this race for cash?
So step right onto the accelerator for a chance to win the top award of 50,000 times your bet per line and in this way you can make your way to two special bonus games. There are two big jackpots which can both be won in the Nitro racing bonus round. There are two separate bonus rounds which are easy to play and consequently easy to win. Dream Run Slots has 25 pay lines and you can play from as little as one line to all 25 lines. In order to win big you should play all 25 lines. Make your selection, choose your wager and choose your bet lines and press the Spin to start playing. Then watch as the reels spin furiously round.
In Dream Run Slots if you hit three green light symbols, you will then get to play the Dream Run Racing Feature where you can win up to 25 free games with large prize multipliers. When you collect 10 Racer symbols you will then play the Nitro Racing Feature where you can win the two jackpots. Is this your lucky day?
You can randomly win a progressive at any time during the game. Progressive jackpots can pop up at any given time and these will increase your winnings dramatically! The more games you play the more chances you have of winning the progressive jackpot. In Dream Run Slots the progressive jackpot can be triggered at any random time during play. So what are you waiting for?
You can play Dream Run Slots manually or else you can opt to press the Auto play and the game will run automatically for you. Sit back and watch as your winnings pile up automatically. This actually makes your game go faster and whenever you decide you do not want to use Auto play anymore, all you have to do is to stop it manually. Alternately, Auto play will automatically stop when you run out of money.
So fasten your seat belt and start racing for money right now. The game is fast and the winning is even faster. Playing Dream Run Slots is easy. All you have to do is hit the spin button. Be the fast and the furious. Fast at playing and racing and furious at winning continuously. This exciting game has vivid graphics portraying the images of the J, the Q, the K and the A. There are also images of the 9 and the 10 as well as images of the speedometer, a gun, a steer wheel and the nitro booster.
Start playing your favourite game today and you will never want to get out of the driving seat in Dream Run Slots.