Field of Green Slots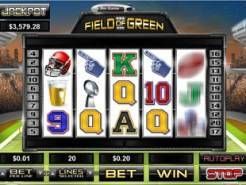 Current Jackpot
$1,050.60
Play Now
Would you guess at a sporting theme for the Field of Green slot game ? We would, and we are proven correct when loading the game to reveal an American football setting. This game is a nice mix of traditional elements and quirkier ones too. That means you can get ready to enjoy some entertainment if you decide to give it a try.
Combination of reels and win lines
If you prefer five-reel games, you will appreciate this one, especially as it has 20 lines available as well.
Coin values to consider
There is a one cent coin offered here, meaning you can get started from 20 cents per spin. The biggest coin is worth $5 a time.
Field of Green special symbols to look for
You won't be surprised to spot a football spinning into play here. This is the scatter, but don't think you will miss out on a substitute symbol. There is one in play, and it is displayed as a gold trophy. Hopefully, it will help you win something - if not an actual trophy.
Bonus features
Three footballs scattered over the reels will be a nice sight indeed. That is because they will bring you the chance to score some free games. Before you play those, you will get to kick five footballs. Each kick could result in one of two things happening. Firstly, you might win a cash prize worth between 5x and 100x your triggering bet. Secondly, you might score some free games - between five and 25 per kick. Needless to say, there could be plenty of cash prizes and free spins in store for you here. If you do get some free games, expect everything you win there to be worth three times its usual amount.
Download and play the Field of Green slot today
Field of Green is a nicely-designed slot, even though it is way older than many newer RTG slots. The added perks offered in the free spins feature are very nice indeed, especially since you might enjoy some entertaining prizes there as well as the games you are trying to win.
Even if you are no good at playing American football, you might just turn out to be good at playing this game. And that could arguably be better than anything else, thanks to the big prizes on offer when you play.