Fruit Bowl XXV Slots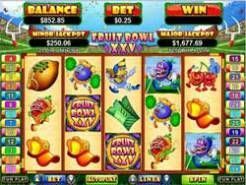 Current Jackpot
$1,002.48
Play Now
A fruit bowl is something we are all familiar with, but we doubt you have seen a fruit bowl quite like this one before. The XXV part of the title links this slot game to the Super Bowl, so if you like that, we think you will like this too. Real Time Gaming has developed a slot that is quite unlike anything else we have seen when it comes to the Super Bowl though, so hang tight and check out our review.
Combination of reels and win lines
Five reels are in action here, providing us with 20 lines to start betting on.
Coin values to consider
If you have tried a few other games from RTG, you might be familiar with the coin selection available here. It goes from one cent to $5 at most.
Fruit Bowl XXV special symbols to look for
Have you ever seen a wild grape before? Not like this one! It is the substitute for everything except the scatter symbol. This appears as a logo for the game.
Bonus features
The logo is great to find as you play, mainly because it must pop up three times to award some free spins. You don't just get to play a set number though, you must dodge the opponents first. Every opponent you manage to go past in this sequence will give you five free spins. The more you dodge, the more freebies you will get. The free games also come with a guarantee known as the Win-Win Feature. You must win a certain amount from the games, otherwise you will be guaranteed to win more in this additional feature. There could be up to 250x your bet to win here if you are lucky, so maybe it is better if you don't win too much in this part of the game!
Download and play the Fruit Bowl XXV slot today
Fruits and the Super Bowl… yes, it sounds like a strange mix, doesn't it? Yet there is a lot to enjoy here if you like the Super Bowl and you like, er, fruit! This is a slot that isn't too serious and that makes it appealing in our view. We like the twist on the free spins too, so check that out if you want to find out more about this game.