Fu Chi Slots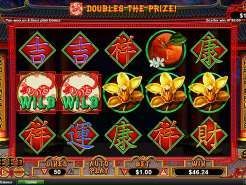 Current Jackpot
$1,216.94
Play Now
Enter the imaginative magical world of China with the Fu Chi Slots in this mega-hit game. Fu Chi Slots is an exciting and highly addictive game and the graphics are to die for. Experience a completely new world in Chinese mythology where danger is all around you. Fu Chi Slots is specifically modified for use on your mobile phone, tablet as well as laptop and PC. Your quest begins in ancient China in the New Year searching for treasure but beware because there is danger lurking deep in the depths of ancient China. You will find numerous obstacles in your path in Fu Chi Slots and this includes one obstacle in the form of the fearsome Dragon. Ever wondered what it feels like to wander into a ficticious world of dragons and dens in China and to discover a wonderful new and exciting world? Well now you can get down to it and enjoy a great experience while enjoying your favourite game. Sound too good to be true? Well then get ready to emerge yourself in a vibrant and adventurous game as you explore ancient China in Fu Chi Slots. On the way through the treacherous path, collect coins and bonus features. This is a great game which has all the online slot fans excitedly talking about it and takes players beyond slot gameplay. Once you start playing Fu Chi Slots you will have so much fun that you will not want to stop because you will become so engrossed in this game. As soon as you load up the Fu Chi Slots reels you will be met with a superb red, green and gold colour scheme and that sets the tone for the action to begin. The 5 reels are nestled within a traditional Chinese temple and the fireworks in the background look brilliant, while on those reels, you will see a set of perfectly designed slot symbols that are each so well in keeping with the Oriental slots theme. You can play this game for fun money in order to practise Fu Chi Slots and gain experience in this game. When you feel that you are confident enough to try your luck, you can then switch to real money. This will boost your confidence no end and make the game more fun to play.
Try your luck with the wide variety of symbols and bonuses
There are of course symbols that you will want to see time and time again and when enjoying Fu Chi slots those icons are the wild and the scatter symbols, both of which have unique roles to play in the game. The Fu Chi wild is all powerful and will replace all other symbols to provide great multiplied wild wins, and they come around with surprising regularity, while the scatter symbols have the potential for much bigger payouts as when seen three times they will activate the excellent Fu Chi freespins bonus round, in which all wins are doubled. You can play Fu Chi Slots manually or else you can opt to press the Auto play and the game will run automatically for you. Sit back and watch as your winnings pile up automatically. This actually makes your game go faster and whenever you decide you do not want to use Auto play anymore, all you have to do is to stop it manually. Alternately, Auto play will automatically stop when you run out of money. You can randomly win a progressive at any time during the game. Progressive jackpots can pop up at any given time and these will increase your winnings dramatically! The more games you play the more chances you have of winning the progressive jackpot. In Fu Chi Slots the progressive jackpot can be triggered at any random time during play. This great interface make enjoying Fu Chi Slots all so simple and that is part of its appeal and many players will love the bright colour scheme and general feel good vibe about this fine creation. Whether you play on your mobile device or your home PC you will find awesome visuals with very cool graphics and animations, that combine to make Fu Chi Slots, a superb addition to the Chinese slots genre. Fu Chi Slots is a game of luck. In order to see results and win big you need to have patience and play for an extended period of time. It is important that you put aside an amount of money to play with and not to go over that amount. When you have played it all, that is your limit, do not bring out any extra money. This way you can control how much to play and know your limitations. Know when to stop. When the fun stops – stop! Stopping at the right time can make a difference between having fun and losing money by going over your limit.