Haunted Opera Slots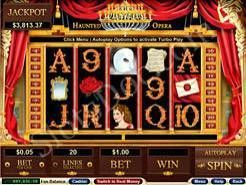 Current Jackpot
$2,025.15
Play Now
Whenever you think of a haunted opera, you may think of the famous musical that has taken the world by storm over recent years. We are talking about Phantom of the Opera of course, and while this game isn't directly associated with that, it does heavily rely on it for inspiration.
That is no bad thing, especially if you have seen the musical and you want to play a similar slot. The curtains are set to the sides of the reels, so the stage is set for an interesting game…
Combination of reels and win lines
Five reels are included here, giving room to accommodate 20 lines to try and win prizes on.
Coin values to consider
It is easy to figure out how much you could bet on this game. The smallest coin is a penny, while the biggest is five dollars. Others are available between those two amounts.
Haunted Opera special symbols to look for
The infamous mask appears as the wild in the Haunted Opera slot game. Whenever this mask appears as part of a winning combination of symbols, the usual amount that combo would win you is doubled.
A letter - perhaps from the Phantom to his love, or vice versa - is used as a scatter icon. If you can find five such letters anywhere in a spin, you would see your bet boosted by 100x as a prize.
Bonus features
You can unlock five free spins by finding a letter on both the first and fifth reels in a spin. This would bring you the chance to win a 2x multiplier on the next five free games.
If the wild should appear in a free spin, triggering a prize as it does so, expect to get a 6x multiplier on the prize instead of the usual amount. The Phantom might also turn up to award you with more free games, so watch out to see whether you get lucky in that respect.
Download and play the Haunted Opera slot today
It is a shame we get just five free games in this slot, but if those wilds come into play we do at least get a chance to win bigger prizes. There are ample reasons to play the Haunted Opera slot, and while it is not an official game it does have the flavor of the famous story we all know and love.