Henhouse Slots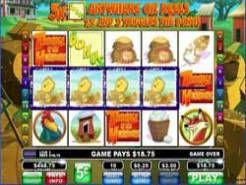 Current Jackpot
$1,158.60
Play Now
Well now, isn't that a question? No one really goes into henhouses unless they are looking for some fresh eggs, so maybe the title is a clue to what might happen here? You'd expect to see hens in a henhouse, of course, but you may not go looking for any progressive jackpots. It's worth bearing in mind two of them exist in this game though, so remember that as we review this game.
Combination of reels and win lines
A five-reel game is normal enough, and this one also features 25 lines to bet on.
Coin values to consider
A penny slot is always a welcome thing, and Henhouse qualifies as just that. You can also play up to a quarter on every line if you want to.
Henhouse special symbols to look for
There is a wild in this game and it is shown as a hen. Well, of course. She might appear on reels two, three, or four of the game. Moreover, she is a grouped wild, meaning several can appear on those reels at once. We guessed there might be some eggs inside this henhouse, and there are – popping up as scatters on the reels.
Bonus features
Find three eggs or more and you get to trigger the Henhouse Pick bonus feature. There are nine hens in this feature, and it begins when you pick one to see what it is hiding. You'll find regular eggs or golden eggs… but one hen is sitting on a rotten egg, so avoid that as it ends the bonus feature. You will receive five free games for triggering this feature. However, the eggs can reveal more free games and multiplier values as well. If you pick the good eggs and avoid the rotten one, you'll go on to another round, with three rounds to play at most.
Download and play the Henhouse slot today
It's always nice to play some free games, but they are more entertaining if you can secure some entertainment before you get there. That is the case with this game, so do check it out now to see what else might pop up when you crack those eggs open. We doubt the hens will mind, and you know there are extra spins and multipliers to be found there. Just keep clear of the hen you think might be hiding that rotten egg…