King of Swing Slots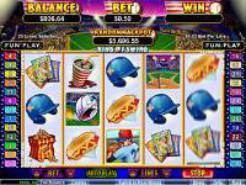 Current Jackpot
$3,873.12
Play Now
When we first saw that title, we immediately thought this slot was based on a musical theme. Jazz, maybe? But we could not have been more wrong if we had tried. It is based on nothing less than baseball, so we guess the title refers to a baseball player swinging the bat and achieving a home run. You can expect to see the player on the reels as you play, along with the diamond and the ball, and lots more besides. Shall we find out whether it's worth taking a swing at this one?
Combination of reels and win lines
Five reels are adequate to provide us with 25 paylines in this game.
Coin values to consider
A cent per line is good here for beginners, but it is also possible to work your way through other values to reach five dollars per line at most.
King of Swing special symbols to look for
The pitcher is a wild in this slot game, appearing on reels one through four. What about the fifth reel, you ask? Well, the wild batter appears on that one, but not on the others. The baseball is in play too as a scatter symbol, and boy does it look nervous!
Bonus features
With two wilds in action, you might guess – correctly – that you need both appearing on the reels to unlock a bonus feature. If you can get one of each in a spin, you will win some free spins. But before you find out how many you are awarded, you will need to play baseball. Yes, you get to play on screen and you need nine pitches or three strikes to determine how many games you get up to that point. All the spins will get a 2x multiplier on whatever you win, so this is a cool way to play and to get some extra prizes.
Download and play the King of Swing slot today
We liked this one. It is always good to see more than one wild in action, especially when they lead to a bonus that offers more than just some regular free spins. Now you know what King of Swing means, you will be inspired to take a swing at getting some prizes in this one. If you like it, which we think you will, you'll want to come back for more too.