Loch Ness Loot Slots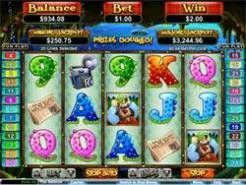 Current Jackpot
$1,131.25
Play Now
Everyone has heard of Loch Ness, the famous location in Scotland that is supposedly home to a lake monster… but is the loch really the home of a monster? No one can be sure, but you will certainly meet the monster in this game, with no need to visit the Scottish Highlands to do so. Lochie, as the monster is known here, is a nice monster to meet. However, you might also be inclined to play the game thanks to the inclusion of two progressive jackpots. Shall we learn more?
Combination of reels and win lines
Five reels are in play in Loch Ness Loot, offering 25 paylines to try and get some prizes on.
Coin values to consider
The coin range is good, with coins going from a penny apiece to a quarter at most. Since you can only play one coin on each line, the range is quite small and affordable too.
Loch Ness Loot special symbols to look for
Lochie is a wild here, as you might have guessed he would be. The monster even replaces the scatters that might turn up – not something you can always count on happening in slot games. The scatters in this game are shown as treasure, which we guess could be hidden in the depths of the loch.
Bonus features
Three or more appearances of some treasure in one spin of the reels will bring you eight free spins. Lochie still appears in these spins but takes on a transformation as an expanding wild. All the prizes you might win in those spins get a 2x multiplier. That doesn't just apply to wild wins, but to anything else you might win as well. You can also try and get eight more free spins if possible, by finding another three piles of treasure on the reels. Could you manage to do that?
Download and play the Loch Ness Loot slot today
Loch Ness is a beautiful place, and one that is steeped in mystery. Call it a rumor, call it a hoax, or call it a possibility that a monster may indeed lurk in the depths of the loch. Whatever the truth may be, you can meet the monster in Loch Ness Loot today, and who knows how generous he may turn out to be? Give it a go and see!