Lucky 8 Slots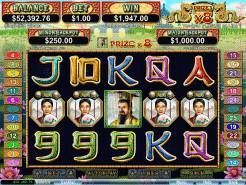 Current Jackpot
$1,697.60
Play Now
There just might be, mightn't there? If you have played a few slots with Chinese themes, you will know by now the number eight is considered lucky in China. It's no surprise software developers tend to add that number into their Chinese-themed slots then. Lucky 8 comes from none other than RTG, so shall we see what they have done with it?
Combination of reels and win lines
Five reels are good to get started with, don't you think? You'll get more than a lucky eight paylines though, with 25 to bet on.
Coin values to consider
One cent is your starting point, and you can increase this to hit the maximum coin value of a quarter per line.
Lucky 8 special symbols to look for
An emperor may appear on the reels in this game. He's the wild symbol, with just two required to score a prize. If an emperor contributes to a winning line, he will be very generous in awarding a multiplier, worth either 2x, 3x, or an impressive 8x the usual amount. There is that number eight again! The logo for the game is used as a scatter icon – another one to watch for, as you will soon see.
Bonus features
Three or more game logos are enough to award eight free spins. Each one will get a random multiplier, displayed on the gong. One of four will appear – 2x, 3x, 5x, or best of all, 8x. If you win something in a spin, it is boosted by whichever value is shown on the gong. Betting on all 25 lines is a good thing to do, even at a penny a time. This is because the Win-Win feature comes into play when you trigger the free games. You'll win another prize once the games are finished, and if you didn't win anything during those free games, a consolation prize is granted. This is worth an amazing 88x your bet. Not bad for not winning anything!
Download and play the Lucky 8 slot today
Lucky 8 is a superb game and features that number eight in good ways. We do like big multipliers, and there's a chance to see that 8x multiplier more often than you may think too. Could you be granted some good fortune by the emperor in this game? Play it now and find out.