Lucky Last Slots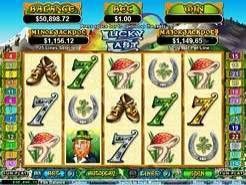 Current Jackpot
$1,952.50
Play Now
Does it mean you will be the last person to be lucky while playing this game? We hope not, because luck is the theme here. The title is a strange one, but we think you'll soon forget about it once you check out all the lucky elements in this game. Yes, there are leprechauns about, but lucky horseshoes and even toadstools appear here as well. Shall we see what else it can offer us?
Combination of reels and win lines
This is a familiar place to begin, as there are five reels which pack in 25 lines to place some bets on.
Coin values to consider
Want to wager something between a cent and a dollar on every line? This slot allows you to do just that.
Lucky Last special symbols to look for
How about playing a game with two wild icons in play? Lucky Last is one such game, and the wilds are displayed as gold coins. One says LUCKY and the other says LAST. They don't show up on all the reels though - LUCKY is on reel one and LAST is on reel five.
Meanwhile, you can see a lucky shamrock that might bring you good luck as the scatter symbol. This is a good one to look for as well.
Bonus features
Seven free spins are available for you to win if you can locate a LUCKY coin on the first reel and a LAST coin on the fifth reel. Seven is supposed to be a lucky number, so maybe having seven free games with a chance to retrigger them in the same manner will indeed lead to some good fortune for you here.
Download and play the Lucky Last slot today
A quick glance at the reel set here reveals the luck-based theme we have in store. There is a touch of the Irish here too of course, thanks to the happy little leprechaun. Every slot player hopes for some good luck as they play their games, so it makes sense to hope a game based on luck is going to bring you just that. If it does, you might well end up with some pleasing wins. Maybe you can score a few nice prizes in the Lucky Last slot from RTG today? If so, it may be a nice game to return to now and again as well, don't you think?