Medal Tally Slots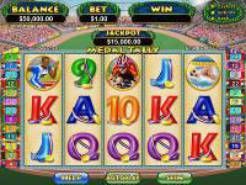 Current Jackpot
$58,181.76
Play Now
Medals pop up frequently in real sporting events, and they crop up a lot in the Medal Tally slot as well. Since a tally of medals is mentioned, we can guess it might just be profitable to find as many medals as we can. This RTG game is another great example of how you can look forward to playing what looks like a standard slot… but is actually one with some intriguing perks included.
Combination of reels and win lines
Things begin on a familiar footing here, with five reels giving us 25 bet lines.
Coin values to consider
Nothing too much involved here as far as choice is concerned. If you want to play the game, it's a dollar a spin. That means you're wagering four cents per line.
Medal Tally special symbols to look for
Look for the symbol featuring three medals on it. This is the wild, and if you get five on a line you would score an amazing 10,000 coins. Not bad given you are wagering four cents on the line. There is a scatter in play too, shaped like a wreath. This is very important, as you will soon find out.
Bonus features
Three, four, or five wreaths are the key to scooping 10, 15, or 20 free games. Everything you might win here receives a 3x multiplier. So far, so good. But there is more to discover. Whenever medals appear on the screen in the free games, they are collected. The idea is to collect as many as you can during the free games. It's possible you may not find any medals. If this happens, you take away 5x your triggering bet for the feature, alongside all the prizes you won during the spins. Meanwhile, the paytable shows you the prizes you can expect for various quantities of medals. Find 50 plus and you can sit back and wait to receive the jackpot!
Download and play the Medal Tally slot today
You can understand what Medal Tally means now, and how important it is to tally up as many as you can once you go through to those free games. Make sure the four-cent line bet is good for your budget before you play, and if so, get ready to enjoy a slot with a difference. It's always refreshing to enjoy one of those.