Megasaur Slots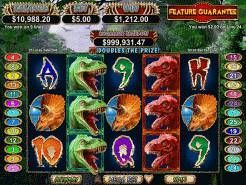 Current Jackpot
$874,601.35
Play Now
Is it just us, or does that sound like a huge dinosaur to meet? Thankfully, dinosaurs are long since extinct, but this one does sound like it might be a good one to check out . And since the game comes from Real Time Gaming, that virtually assures that we will have a great time playing it. Let's brave the sight of some dinosaurs and see what this slot game can offer us.
Combination of reels and win lines
The format in use here is a familiar one, with five reels and 25 lines in action.
Coin values to consider
You'll have fewer coins to choose from than you might expect – just three, from five cents to 20 cents on a line. The higher minimum bet is due to the progressive jackpot that has made this game a very popular one among many players.
Megasaur special symbols to look for
You get two wilds in the game, each appearing on its own reel. Watch for the green one on reel two and the red one on reel four. Whenever one appears, it replaces every other dinosaur that might also have appeared on the reels in the same spin. How does it do this? It eats them, of course. The scatter appears as a volcano, which just may have been what wiped out the dinosaurs, although no one knows for sure.
Bonus features
Get three or more volcanos on the reels and you can look forward to winning at least six free games, and possibly as many as 50, depending on your volcano quantity at the start of the games. Each volcano will reveal a number of spins, so watch carefully to see what you get. The Megasaur slot also comes with the feature guarantee, which means you will trigger the spins on the 250th go if you haven't already done so. That's cool if you know you are going to play for that long.
Download and play the Megasaur slot today
Megasaur regularly shows up on lists of the best slot jackpots to go for, thanks to the progressive pot that often gets into six or more figures. While you may not be fortunate enough to win that, you may just get lucky and win some other cool prizes instead. Megasaur is a mega game and one you will not want to miss, no matter what else you might play.