Mice Dice Slots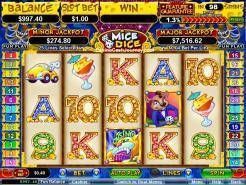 Current Jackpot
$6,374.52
Play Now
Rodents wouldn't seem to be a fun choice for a theme, but when you see Mice Dice game features a catsino – and no, that isn't a typing error – you can see where this game is going with its theme. When RTG gets to grips with an idea, you can be assured of having a terrific time spinning yet another set of reels. But is there enough in this game to provide you with some 'reel' entertainment?
Combination of reels and win lines
Five reels will lead you to believe there is a familiar number of paylines too, and that is so – with 25 in action here.
Coin values to consider
Playing something from one cent to one dollar per line is your task here. A quarter per spin is just fine, while the maximum is $25 per spin.
Mice Dice special symbols to look for
Since the title is Mice Dice, you would expect to see a mouse holding some dice. That is the image you will see here as the wild symbol. The top prize is winnable if you can get five of those on a paid line, with 2,500 coins coming your way if you manage to achieve that. The scatter appears as the catsino we mentioned earlier – not the most sensible place for a mouse to be, we would guess!
Bonus features
The wild dice are handy to help win prizes, but they are also the trigger for some free games. Two or more will secure those for you. Watch as the triggering dice are rolled to reveal how many games you have won, along with a multiplier for those games. This will be dependent on the quantity of dice you found to trigger the feature. There is also a feature guarantee built into this game. This means you are guaranteed to reach the free spins feature by the time you have completed 100 spins of the base game, if you haven't already managed to do so. Of course, that assumes you will play that many spins, so think about that before you play.
Download and play the Mice Dice slot today
Mice Dice is a cool and unusual twist on a casino theme. The free spins are very welcome, and the guarantee is a nice touch as well. But will those mice be useful in helping you scoop some prize wins?