Naughty or Nice? Slots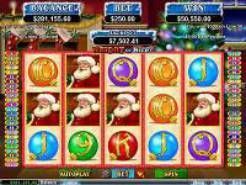 Current Jackpot
$5,192.68
Play Now
Enter a fantastic magical world of Santa's elves waiting to be discovered and make friends with you. Enjoy finding out whether they are naughty or are they nice? Or perhaps sexy or time? Christmas is fast approaching and the elves are helping to make everybody's dream Christmas wishes come true. Help the elves make presents for Christmas in Santa's Workshop. Are you capable of mingling with the elves to find out whether they are naughty or nice? Delve into Santa's world where all around you there are elves working away to add the final touches to the presents that Santa will whisk away on Christmas Eve to deliver them to all the people who have been good down on earth. Join in the excitement as Christmas day approaches. Become a friend to the elves in order to find out whether they are naughty or nice. Would you rather become friendly with a Nice Girl? Or perhaps with a Naughty Girl? The choice is yours and this is where the excitement and the fun begin….. Have you ever wondered what it would feel like to meet real live elves and to discover a wonderful new and exciting world where Santa Claus lives in his grotto? Well now you can get down to it and enjoy a great experience while enjoying your favourite game. Sound too good to be true? Well then get ready to join this quest for riches which are hidden all around. Naughty or Nice? Slots takes you to Santa's Workshop. Things are really heating up in the North Pole with this Naughty or Nice? Slots game. Welcome to the sexiest, naughtiest version of Santa's Workshop you would have never possibly imagined! It is freezing cold outside in the North Pole but here in Santa's Workshop things are heating up with the Naughty and Nice Girls.
Naughty or Nice? Slots features 50 pay lines where you can bet as much as $5 per line. This includes a bonus round which will make you feel as though you are on Santa's really good list all the time. It definitely feels like Christmas with a random progressive jackpot just waiting to be popped! Naughty or Nice? Slots has rich graphics which feature beautiful women. You can play this game manually or else you can press the Auto play button. When you press the Auto play button they game will play automatically for you. It will stop playing when you stop the Auto play or else when you run out of money. This will speed up the game considerably. Naughty or Nice? Slots has a progressive jackpot that pops randomly. Make your bet selection by clicking the arrows to the left and to the right of the Bet button. You can bet as little as 1 cent per line and as much as $5 per line. You can use the arrows next to the lines button to decide just how many lines you would like to play. You can play as few as 1 line or as many as 50. Click the Spin button to lock in your bet. When the reels come to a halt you will be paid according to the pay schedule. Naughty or Nice? Slots includes three symbols. These are a Naughty or Nice symbol, a Nice Girl symbol and a Naughty Girl symbol. The two girls are the substitute symbols. They can substitute for any other symbol except for the Naughty or Nice symbol in order to help you attain a winning combination. If you hit three or more Naughty or Nice symbols, you will be awarded 10 free games. These 10 free games then in turn can be doubled.
Are you ready for the sexiest Christmas game of all time? You can practise for free with fun money and then when you feel confident that you are ready to play the game switch to real money. Naughty or Nice? Slots is a game of luck. In order to see results and win big you need to have patience and play for an extended period of time. It is important that you put aside an amount of money to play with and not to go over that amount. When you have played it all, that is your limit, do not bring out any extra money. This way you can control how much to play and know your limitations. Know when to stop. When the fun stops - stop! Stopping at the right time can make a difference between having fun and losing money by going over your limit. So what are you waiting for? Start playing Naughty or Nice? Slots today and have yourself one great and rewarding adventure just in time for the Christmas season. One thing is for sure - this game will give you thrills over and over again and the rewards are simply amazing! Merry Christmas ! Ho Ho Ho!!