Ninja Star Slots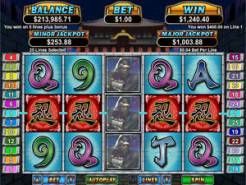 Current Jackpot
$4,339.54
Play Now
We doubt it, but that title does give away the dynamic and exciting theme used in this slot game from RTG. They've got plenty of successful slots in their collection already, so can we throw Ninja Star into that successful arena as well? We have an idea what to expect, but will the reality be better still?
Combination of reels and win lines
Five reels indicate this game will use a common layout, and it adopts 25 win lines as well.
Coin values to consider
One cent is the least you can bet on each line, with the maximum reaching just a quarter per line.
Ninja Star special symbols to look for
Since the title is Ninja Star, you would expect a ninja to appear. He does too, grouped on the first, third, and fifth reels as the wild for this game. A ninja star is used as the scatter symbol – the only thing the ninja cannot act as a substitute for.
Bonus features
Three ninja stars prove to be an excellent find in this game. Eight free games would be awarded to you in that instance. These come with a nice 3x multiplier to add to all the prizes as well. There are logos that appear in this slot game, and every appearance of one in these free games will mean it changes either into a wild ninja or into a scatter. If you should find three logos on the first three reels, all on the same payline, you will unlock the Ninja Scroll bonus. Four pairs of scrolls are presented to you here, with the chance to choose some to select a prize. There is more than one level available, so you never know how long this bonus will last.
Download and play the Ninja Star slot today
Ninja Star is an engaging slot that offers far more than you might expect. The ninja theme is hardly a common one either, although we have seen it here and there before. RTG has done a fine job with this slot, and we love the Scroll bonus as an added perk aside from the free spins. Even those spins aren't quite what you might expect. Getting the chance to play a game like this is a real pleasure, so make sure you try your luck with those ninjas today. They might be lucky for you.