Penguin Power Slots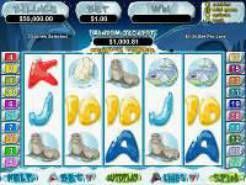 Current Jackpot
$2,650.89
Play Now
Experience a freezing world of ice and snow in the frozen north with features and prizes that will leave definitely not leave you cold. In Penguin Power Slots you will find the Penguin, the Fish, the Seals, the Eggs, the Igloo, the Snow House and the Baby Penguin. In Penguin Slots all your favourite north pole characters will come to life. You will not be able to wait till winter to be able to experience these cool treats as soon as possible!
Penguin Power Slots takes you to an extraordinary world of shimmering enchantment as you wander around the Arctic Circle. Wander around the Arctic Circle with your newfound friends and join in the excitement of searching for your riches across the ice as you skate and slither you way around. Enjoy your favourite game in this icy blast of winter.
Penguin Power Slots is a 5 reel slot with 20 pay lines. You can play from 1 to 20 pay lines but it is best to play 20 pay lines to maximize your winnings. Penguin Power Slots also has a random jackpot, free spins, a multiplier feature, wilds and scatters that trigger free spins.
You can randomly win a progressive jackpot at any time during the game. Progressive jackpots can pop up at any given time and these will increase your winnings dramatically! The more games you play the more chances you have of winning the progressive jackpot. In Penguin Power Slots the progressive jackpot can be triggered at any random time during play. So what are you waiting for?
You can play for as little as 1 cents to as much as $5 a line. The choice is up to you. You can play from 1 line to 20 lines but the more lines you play with, the more you can maximize your winnings. Penguin Power Slots pays from left to right. The baby penguin is the wild symbol in the Penguin Power Slots. The baby penguin shows up on the 2nd reel, the 3rd reel and the 4th reel. The baby penguin substitutes for all other symbols except for the scatter. It also doubles any winnings when used in the winning combination.
The igloo is the Penguin Power Slots scatter symbol and when three or more igloos appear anywhere on the reels, the free game is triggered. You can win 5 free spins, 10 free spins, 15 free spins or 25 free spins. In the free games there are extra igloos and baby penguins added on.
Scatter around with penguins in their igloos and win big with an icy combination
The Penguin Power Slots scatter symbol is the igloo and when three or more igloos appear anywhere on the reels, the free game is triggered. You can win 5, 10, 15 or 25 free spins. Extra igloos and baby penguins are added to the reels on free games.
When an igloo appears on the same horizontal line as a baby penguin appears on reel 1 and/or reel 5, the penguin will slide over to the igloo revealing multipliers of 5 times, 10 times, 25 times or 100 times your wager and 2 additional free games, 3 additional free games, 5 additional free games, or 10 additional free games.
You can play Penguin Power Slots manually or else you can opt to press the Auto play and the game will run automatically for you. Sit back and watch as your winnings pile up automatically. This actually makes your game go faster and whenever you decide you do not want to use Auto play anymore, all you have to do is to stop it manually. Alternately, Auto play will automatically stop when you run out of money.
You can play this game for fun money in order to practise Penguin Power Slots and gain experience in this game. When you feel that you are confident enough to try your luck, you can then switch to real money.
Penguin Power Slots is a game of luck. In order to see results and win big you need to have patience and play for an extended period of time. It is important that you put aside an amount of money to play with and not to go over that amount. When you have played it all, that is your limit, do not bring out any extra money. This way you can control how much to play and know your limitations. Know when to stop. When the fun stops - stop! Stopping at the right time can make a difference between having fun and losing money by going over your limit.
So why not start playing Penguin Power Slots today and get engrossed in this idyllic, shimmering icy world where you can mingle with the penguins in the North Pole. Discover the treasure that lies within, and increase your possibilities of winning and finding new free games.