Rudolph's Revenge Slots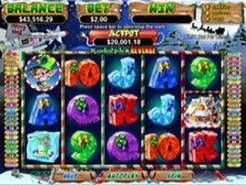 Current Jackpot
$20,511.22
Play Now
Rudolph is surely the most recognized reindeer from Santa's collection of helpers on his big night on Christmas Eve each year. But Rudolph's Revenge slot indicates the reindeer may not be as happy as we thought. Could it be that red nose hides some drama and intrigue, as you will see on this set of reels?
Combination of reels and win lines
We get five reels to contend with in this game, giving way to a huge array of paylines - 50 of them, if you're counting.
Coin values to consider
There isn't much to consider here, as the line bet is set at four cents, giving a total spin bet of two dollars per go. There is a progressive jackpot on offer though, so that bet ensures the pot keeps increasing until someone wins it.
Rudolph's Revenge special symbols to look for
You won't win anything for guessing Rudolph acts as a wild symbol, since he is the most important character appearing in the slot game. However, you may not realize he will be generous in offering a 2x boost to anything you win with his assistance.
You will also see a gift-wrapped treat as a scatter, although that gift looks very much like a bomb to us. Rudolph is not a happy camper in this game!
Bonus features
Your task to win some free games is to locate three gift-wrapped bomb-shaped scatters from the leftmost reel. Anything you win in the seven free games you are awarded will be doubled from its usual value. You can also trigger the seven games to be won again in the same way you originally did.
The way to win the progressive jackpot is via Rudolph himself. Five on a line is good enough to trigger it - although that sounds way easier to say than it is to do, as you might guess.
Download and play the Rudolph's Revenge slot today
You cannot miss the colorful nature of this game, designed with lots of festive appeal in mind. With wrapped gifts, elves, and even Santa himself appearing, this slot doesn't miss a trick. As one of the more appealing festive slots around today, with an added twist if you like that kind of thing, be sure to check out Rudolph's Revenge now to find out whether this reindeer will get his desired revenge this year.