Santastic Slots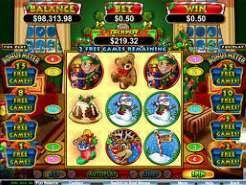 Play Now
The Santastic title makes the theme of this slot game rather obvious, doesn't it? Yes, it is the festive season and this fantastic festive slot certainly is designed to get you into the mood.
We can thank RTG for rolling everything about Christmas into this slot. It truly is a Santastic one to play!
Reels and lines
If you like a 3 x 3 format to play on, you'll be delighted with this game. The three-reel format gives you five lines to play on as well.
Coin options
This game is not for penny slot players. Indeed, there are just two available coins, marked as 10 cents or a quarter. Each coin is playable on each line.
Special icons in Santastic
Are two wilds better than one? Of course, and here you get two wild Christmas stockings appearing on reel two with a 2x multiplier attached. Reel three gets a look in too, offering the chance to see three stockings on an icon with - you guessed it - a 3x multiplier involved instead. Find one of each along with a third icon on the first reel, and you will scoop the three-icon prize with a 6x multiplier to boot.
You might wonder why the slot has a high minimum bet amount. The presence of a progressive jackpot explains this. You need to find wrapped gifts in every position on a paid line to win that.
Are there bonuses to be won?
There are a few neat treats in store here. If one of those jackpot symbols appears in the center position on the second reel, a free re-spin of the other two reels is given to see if you can get two more to win the jackpot.
You also get the chance to win some Jackpot Spins, in which the jackpot icons have a better chance of appearing. You can also look forward to the Festive Feast Feature. This may award free spins or maybe some of those Jackpot Spins - it all depends where the Bonus Meters end up.
Download and play the Santastic slot game now
Even though the game only covers a 3 x 3 grid, you can see it packs in many delightful surprises. This is one of the finest festive slots we have seen, with a truly Santastic gaming experience to look forward to - festive season or not!