Swindle all the Way Slots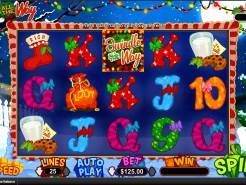 Current Jackpot
$1,066.63
Play Now
Christmas is on the doorstep and now is the time to get into the Christmas spirit of things with Swindle all the Way Slots and take part in this hilariously funny game where we get to watch two bumbling robbers trying to steal the Christmas cheer. Two robbers want to steal their share of the presents this Christmas in Swindle all the Way Slots. These two robbers in Swindle all the Way Slots are very similar to the two robbers in Home Alone.
Swindle all the Way Slots is a 5-reel, 25-pay line online slot which gives you plenty of chances to win on every turn. You can choose your pay lines from 1 to 25. The coin size is also adjustable, allowing you to customize the bet size to suit your bankroll. Sign up now with a $30 deposit and receive a 250% No Max Bonus and 30 Free Spins. Hit three of the Swindle all the Way scatter symbols to trigger the free games bonus and for a chance to win big bet multipliers and free games.
You can randomly win a progressive jackpot at any time during the game. Progressive jackpots can pop up at any given time and these will increase your winnings dramatically! The more games you play the more chances you have of winning the progressive jackpot. In Swindle all the Way Slots the progressive jackpot can be triggered at any random time during play.
Once the Christmas season is approaching, cunning thieves get ready to get their hands on a share of the Christmas presents, lying under the Christmas tree in Swindle all the Way Slots. The thieves in Swindle all the Way Slots do not care if you have been naughty or nice during the year. They just want to grab their share of the lovingly wrapped presents from under the Christmas Tree. In the tradition of movies like Bad Santa or the Gringe, thse slots have taken a hilariously black humoured approach in this year's Christmas release. In the tradition of Rudolph's Revenge or Naughty or Nice there definitely is some comical mayhem brewing with a priceless fun ride to amazing prizes. You can play Swindle all the Way Slots manually or else you can opt to press the Auto play and the game will run automatically for you. Sit back and watch as your winnings pile up automatically. This actually makes your game go faster and whenever you decide you do not want to use Auto play anymore, all you have to do is to stop it manually. Alternately, Auto play will automatically stop when you run out of money.
Get stuck in with the robbers on Christmas Eve
Fed up of all the Christmas cheer and all the Christmas jingle all around them, the grumpy robbers are shivering in the cold, Grinch style, outside the beautifully decorated houses waiting for their turn to inspect people's presents under the Christmas Tree.
You can play this game for fun money in order to practise Swindle all the Way Slots and gain experience in this game. When you feel that you are confident enough to try your luck, you can then switch to real money. This will boost your confidence no end and make the game more fun to play. Playing for fun first will give you a chance to find out what the game is really like and you will be in a better position to play the game better and it is more probable that you will make bigger winnings when you are in the know how.
The Swindle all the Way Slots takes a light-hearted yet darker approach to the holiday season. It offers great entertainment and also offers you many sparkling winning chances. Its comical design, hilarious animations and driving sound help it distinguish itself from all the other ordinary Christmas themed slots.
Swindle all the Way Slots is a game of luck. In order to see results and win big you need to have patience and play for an extended period of time. It is important that you put aside an amount of money to play with and not to go over that amount. When you have played it all, that is your limit, do not bring out any extra money. This way you can control how much to play and know your limitations. Know when to stop. When the fun stops - stop! Stopping at the right time can make a difference between having fun and losing money by going over your limit.
So start playing Swindle all the Way Slots and watch as the robbers who are not in a good mood, without a cosy home, and feeling grouchy this Christmas, get ready to stir up some mayhem and steal their share of the gifts. Are they ready to share their heist with you?