Victory Slots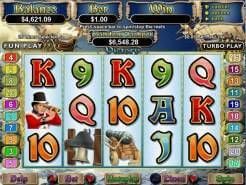 Current Jackpot
$3,252.26
Play Now
If you think of the word victory in terms of an object rather than a sign of achievement, you might think of the famous Royal Navy ship of that name. Clearly, RTG thought along those lines when they were creating this slot game, as it begins with a closer look at the theme and goes from there. Watch out for the first sighting of the ship as you begin to play.
Combination of reels and win lines
This is a standard five-reel slot game, and we get 20 lines on which to try and scoop some prizes as well.
Coin values to consider
RTG games often have identical sets of coins to try. This one does too, opting for the ever-popular selection of coins going from a cent each to the maximum of five dollars.
Victory special symbols to look for
The Victory makes an appearance on the reels here, but only on the middle three. When it does so, it behaves as a wild symbol. This means you will watch as it replaces everything in the hope of winning prizes – and we do mean everything. Even the scatter, appearing here as an ensign flag, can be substituted by the ship. The game isn't presented in 3D, but every icon and element involved in gameplay looks very appealing, as you will see. That includes the special icons that can help you play.
Bonus features
Can you locate three or more ensign flags in one spin? If so, there are some free spins sailing in your direction. You will get 12, 20, or perhaps even 50 free games here. The amount awarded is dependent on the number of scattered flags you located, so let's hope you can find five of them. There are multipliers in the free games too, no matter how many spins you win. All prizes are doubled, but those involving the wild Victory symbol will be given a 4x multiplier.
Download and play the Victory slot today
This is a lovely game, harking back to the olden days on the water. Even if you do not have any sea legs, you don't need to worry about this game making you feel seasick. Instead, you can merely enjoy the chance to play the Victory slot for a victory or two of your own. Wouldn't that be a nice achievement to remember if you play again?