Vikings Voyage Slots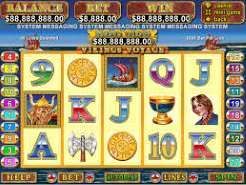 Current Jackpot
$1,003.60
Play Now
Lots of games are set on the high seas… or under them, in some cases. This one takes us off in search of some Viking ships, as you might well guess from the title. There are some fascinating elements involved with this one, not least in the way the game is designed. The reels are placed close to the surface of the water, where a Viking ship with impressive dual-colored sails is bobbing around. Will you search for prizes on those reels? We think you will.
Combination of reels and win lines
Five reels is usual enough to find here, as are 20 lines to place some bets on.
Coin values to consider
This is a good penny slot to play for those with a small bankroll to manage. However, if you did want to bet more, you could do so with up to $5 playable on each line.
Vikings Voyage special symbols to look for
A Viking can make appearances on the reels, but only on the first and fifth ones, acting as a wild icon as he does so. He won't pay out the biggest prizes, since that role has gone to the female you might see elsewhere. If she appears in every position on a paid line, you would receive a tidy 5,000 coins.
Vikings were well-known for traveling in longboats. So, one of those must surely appear in the game and it does - as the scatter symbol.
Bonus features
Three Viking longboats will set you sailing towards 10 free games in Vikings Voyage. You can win further free games from within this feature, but to do so you will need four or five of the longboats to appear. Three would not be sufficient in this instance. Still, with 10 free games at least, you could net some pleasing prizes in those games.
Download and play the Vikings Voyage slot today
Vikings Voyage is a solid if formulaic slot, benefiting from a nice design and some entertaining features as well. You might end up looking for some Vikings in every spin, but since they can only appear on the two outer reels, you may not benefit as often as you would like.
That said, the game also fits in a progressive jackpot, so there is more to play for here than you may assume. Check out the Vikings Voyage today in case you can shoot for victory!