Warlock's Spell Slots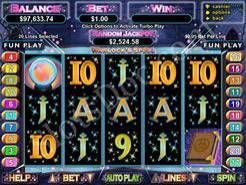 Current Jackpot
$2,187.21
Play Now
We know warlocks can cast spells, but those spells can be a good or a bad thing. We are expecting to meet a warlock in this RTG slot game, and since it was developed by one of the most popular software developers online today, that counts in its favor.
But will we find some magical prizes in this game, or is there more to it than first glance would suggest?
Combination of reels and win lines
If you have tried any five-reel games before, you'll know many of them have 20 lines. This is another one of those.
Coin values to consider
You can start from a cent on every line here, with the option to choose coins worth more if you like. The maximum value is five dollars.
Warlocks Spell special symbols to look for
A warlock was bound to pop into view as a special symbol, and it does so as a wild. This is not the only wild you will see though, since there is a witch wild on the first, second, and third reels of the game too. The warlock appears on the third, fourth, and fifth reels.
Warlocks and witches read spells from spell books, so you might expect one of these to be used as a scatter, which is the case. The scattered book is the one thing neither of the wilds can replace.
Bonus features
Three or more scattered spell books will take you to play some free games. To find out how many you have won, you must mix a potion from the ingredients provided. The better the resulting potion is, the greater the quantity of free spins will be. You simply cannot tell how many you will get, but if your potion is very good, there are as many as 100 free games to secure here.
Download and play the Warlocks Spell slot today
We have played slots previously that provide the chance to pick items prior to playing some free spins. This is another one of those, but with 100 to win at most, it could well be more productive than any other pick feature you have tried before.
The Warlocks Spell slot is a delight to play and provides enough appeal - especially with those two wild symbols - to entice you to play for a while. Will you win as you do so?