Bunko Bonanza Slots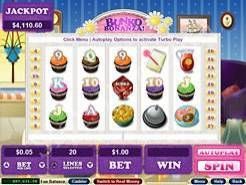 Current Jackpot
$3,993.84
Play Now
Bunko Bonanza sounds like an entertaining experience or place to be, but do you have any idea what it might mean? If we reveal RTG created this slot, that alone might be enough to tempt you to play. There is much to enjoy here if you do, so let's dive into the Bunko Bonanza experience to find out what it involves.
Combination of reels and win lines
It never takes long to explore the RTG slot collection and find a game with five reels and 20 paylines on offer. That is what you get in this game too.
Coin values to consider
How much do you like to wager on your preferred slot games? If you like playing with a cent on each line, you can do that here. You can also check out the chance to go as high as $5 per line.
Bunko Bonanza special symbols to look for
It might seem odd to look for a desktop bell in a game, but you should do that right here. The reason is that it is a wild icon. It doesn't replace the bunko dice that are a main feature of the slot - and the theme, of course - but the bell is good for replacing everything else. Those dice can show up on reels one, three, and five.
Bonus features
There are 21 free games available to win in Bunko Bonanza… but you will need to find the dice on reels one, three, and five in one base game spin to get them. These games do include a multiplier on all prizes, and this is determined by the values appearing on the triggering dice. It is guaranteed to be 2x at least, but if you strike it lucky you could get a multiplier worth 6x.
Watch out for the bells to appear in these spins as well. If one of these features in a winning combination, you could enjoy a huge 12x multiplier to boost the value of your prize.
Download and play the Bunko Bonanza slot today
Bunko Bonanza is all about dice games, but you don't need to know the rules to enjoy this slot game. We don't see too many slots based on this idea or theme, so it is a refreshing change to play this one. Will you strike it lucky with the dice and the bunko theme? Those multipliers might surely help you.