Cherry Red Slots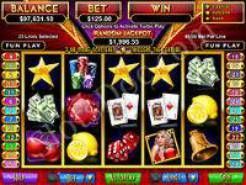 Current Jackpot
$2,031.13
Play Now
Cherries crop up in lots of online slot games, especially those with just three reels in play. We have seen them in several five-reel games too though, so you never know when they might appear. When you see a slot game titled Cherry Red though, you just know there are going to be cherries involved. The question is whether this game is going to deliver the goods when it comes to prizes. You will see some cherries on the reels, but this game delivers a casino theme, with casino chips, dice, and much else besides to look for. Will you manage to line up any lucky combinations if you take this one for a spin?
Combination of reels and win lines
This game boasts five reels and 25 lines, so there is plenty happening on each spin.
Coin values to consider
If you like playing a cent per line on your chosen slots, you will be pleased to know you can do that here. You can also raise that bet to as much as five dollars per line.
Cherry Red special symbols to look for
There is a wild here, as you might have hoped there would be. It appears in the guise of a Cherry Red Casino logo, which is unusual. That's because you can play the game there. The scatter is appropriate for the game and the casino too, because it appears as a dollar sign.
Bonus features
If you manage to score three scatters on the reels, you can expect to play a free spins feature. This is the only bonus in the game, although it does provide you with bigger prizes thanks to the 2x multiplier in action in that round.
Download and play the Cherry Red slot today
Cherry Red is a nice slot that was designed to be offered at the casino of the same name. That makes sense of the logo you might see there as the wild. But there is something else to be aware of as well. The game also has a progressive jackpot that appears above the middle reel of the game. This random jackpot could drop at any time. Will you try and play for a chance to win it if you can? Play Cherry Red now and find out just how lucky you could be if you get some winning lines.