Count Spectacular Slots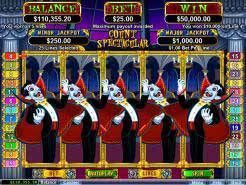 Current Jackpot
$1,248.59
Play Now
Enter a magical Vampire-themed world where you might find that you bit off more than you can chew. Experience a world of surreal darkness like no other in this Dracula-themed slot. Emerge yourself in this dark sultry game which can also be likened to the Twilight Saga. Would you dare to enter? Enter a completely dark ad scary world when you enter Count Spectacular Slot in Transylvania Castle where many do not dare to enter and where all around you is dark and mysterious with multiple bats fluttering across the dark skies. Are you feeling brave enough to enter? Do you dare to enter this mysterious castle where ghost and ghouls hide behind every nook and cranny? Would you take a step further into this ominous sullen world?
Have you ever wondered what it feels like to take a look at a Count Spectacular's world where there is always a spooky treat ready and waiting for you round every single corner? Well now you can get down to it and enjoy a great dark experience while enjoying your favourite game. Does this sound too good to be true? Well then get ready to emerge yourself in a world of thrills and spooks where there is plenty of fun to be had and there are hours of endless entertaining slot enjoyment. So what are you waiting for?
Count Spectacular is a 5-reel, 25 pay line slot which is available on your mobile phone, tablet and laptop. This makes playing easier and more fun and augers for hours and hours of endless fun. Over the years Count Spectacular Slots has become a classic loved by all slot players of every category from complete beginners to seasoned professionals. So whether you young or old, are new to slots or whether you are accustomed to playing regularly, this is the game for you. Unlock the Count Spectacular Feature when you trigger the Count Spectacular icons on both reel 1 and reel 5. During this exciting feature you can chose whether to play 12 free games with triple prizes or 4 re-spins where reel 1 and reel 5 are held while the other reels re-spin. In addition, 12 additional free games can be won if the Count Spectacular icons appear on reel 1 and reel 5 again. You will come back to this game again and again for hours of endless fun and exciting adventures in Count Spectacular Slot. You are in for exciting and fun times when you can unlock 12 free games with triple prizes or else have the option of unlocking yet another 4 re-spins in order to get another 12 additional free games. This is definitely a lush adventurous game with a dark twist. Enter Count Spectacular's dark Transylvania Castle and play for your life. Win free games and re win more free games and re-spins which keep you engaged in the game and enthralled for hours of fun and games. Count Spectacular Slots is a game of luck. In order to see results and win big you need to have patience and play for an extended period of time. It is important that you put aside an amount of money to play with and not to go over that amount. When you have played it all, that is your limit, do not bring out any extra money. This way you can control how much to play and know your limitations. Know when to stop. When the fun stops - stop! Stopping at the right time can make a difference between having fun and losing money by going over your limit. So what are you waiting for? Start playing Count Spectacular Slots today and emerge yourself in this dark mysterious world like no other, mingling with the ghosts and ghouls in this mystical world. Discover the treasure that lies within, and increase your possibilities of winning and uncovering free games. Take part in the Random Progressive Jackpot when you least expect it and have a great time playing Count Spectacular Slots!