Crystal Waters Slots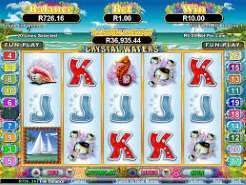 Current Jackpot
$2,043.02
Play Now
Experience an underwater world under the sea where all is calm and quiet and brilliant colours are shimmering all around you. Dive right down with the fishes and swim down to the sea bed where you will discover an amazing sunken treasure in Davy Jones's Locker. Sail through the clear tranquil waters of this ocean themed slot game. Find your fortune under the sea when you dive into Crystal Waters Slots .
Crystal Waters Slots takes you to a whole new world that isn't quite like any other. Make many underwater friends as you swim along and dart in and out with your fishy friends. The dolphins will follow on your tail and help you throughout the game. So make friends with the dolphins to take advantage to their friendly help in order to win some of the biggest stakes in the game.
Have you ever wondered what it feels like to take the plunge and to enter this new exciting vibrant world under the water? Enjoy your favourite game below the surface. Emerge yourself in this wonderful underwater world and get down to playing this game with the rest of this underwater world. Sounds too good to be true? Then get ready to dive into this 5-reel slot on the sea bed. Sail across the seas in the yachts that you will find in the reel. Participate in this underwater fun with 20 pay lines over 5 reels in Crystal Waters Slots. Yes you really do have 20 possibilities of winning when you play 5 reels. You can play for as little as 1 cent to as much as $100 in this wonderful game.
Watch out for the elusive Dolphin Wild Card as well as the Yacht Scatter Symbol. If you are lucky enough to spot a Dolphin in a winning combination then you will win double your bet. So what are you waiting for? Dive into a fortune under the sea and make friend with as many dolphins as possible. The Crystal Water Slots features the graphics theme of crystal clear sea water. There are spectacular animations of all the sea creatures such as dolphins, yachts and sea-turtles which come alive on your screens. The sea-turtle is a highly rewarding symbol in the game. To add to the excitement of the game, if you manage to spin five images of sea-turtles along with an icon of a dolphin, then you can win the biggest reward which is 4,000 your wager! So what are you waiting for? Plunge yourself body and soul into this exciting game of Crystal Water Slots.
Sail three or more images of yachts across the reels in Crystal Waters Slots. If you manage to sail three yachts across the reels in the clear crystal waters you will win 15 free spins. When you spin the bonus clown fish, as this is the other wild symbol in this game, these become active only under the free spin feature to help you get winning combos.
You can land yourself in chaos and confusion if you fail to read the rules of Crystal Waters Slots and plunge yourself into the deep end of the sea in the process. So go through the rules carefully before plunging yourself deep down into the ocean. You can also try practising Crystal Waters Slots by playing for fun money. When you are confident in your game, then you can switch to real money and this is where the real fun begins!
Look out for the scatter symbols which are the yachts. Revealing three or more scatter symbols can earn you multiples of awards by your total stake. Spinning of 3,4, or 5 images of yacht will give you the multiples of 3, 15 or 200 respectfully.
Crystal Water Slots is a game of luck. That means that in order to see results and win big you need to have patience and play for an extended period of time. It is very important that you put aside an amount of money to play with and not to go over that amount. When you have played it all, that is your limit, do not bring out any extra money. In this way you can control how much money to play and know your own limitations. Know when to stop. When the fun stops - stop! Stopping at the right time can make all the difference between having fun and losing money by going over your limit.
So what are you waiting for? Start playing Crystal Water Slots today and emerge yourself in this vibrant underwater world, experience a world like no other, hunt for the underwater treasure, increase your possibilities of winning and discovering free games and have a great time playing with the dolphins and sailing your yachts in Crystal Water Slots!