Fruit Frenzy Slots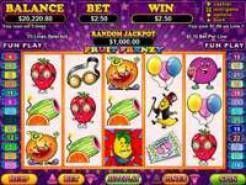 Current Jackpot
$3,236.57
Play Now
Do the fruits in this slot game have their beady little eyes on you? It certainly seems as if they do… and we thought only potatoes had eyes! That statement should tell you everything you need to know about how quirky this game is. It would be odd to play a game called Fruit Frenzy and not to see any fruit in it, but this one takes on a different tack, and it is a theme that is a lot of fun.
Combination of reels and win lines
Fruits appear in three-reel slots galore, but we get five reels here instead. We also get the chance to wager bets on 25 lines.
Coin values to consider
Want to bet a penny per line? The Fruit Frenzy slot allows for this. It also allows a variety of other bets up to five dollars on every line.
Fruit Frenzy special symbols to look for
The substitute symbol in this game is a pineapple. This is good for replacing other icons to help you form new wins. There are just two symbols you cannot do this with, and they are both scatters. Yes, instead of the usual singular scatter you get two here, and they are shown as words – the words of the title. While it would be good to use them to get a bonus of some sort, they are only good for scatter prize wins.
Bonus features
How would you like to play a bonus called Daredevil? This sound good, doesn't it? It does still involve fruit though, as you will see. If you can get a winning line with five matching icons on it, you will trigger this feature. The idea is to try and fire one of the three strawberries you are given through the rockmelon – right through the center. Odd, but enjoyable! But it doesn't end there. Whenever you get a strawberry through, you're awarded some free games. The more you strike, the better the outcome. You will then play through your freebies with a 2x multiplier. The only exception is for scatter prizes, which come with a 3x multiplier.
Download and play the Fruit Frenzy slot today
Fruit Frenzy is a fun game, even if the bonus is hard to trigger. Other than that, we would heartily recommend you try it as soon as you can.