Goblin's Treasure Slots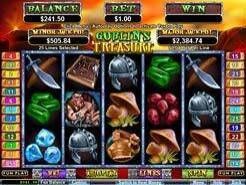 Current Jackpot
$3,888.96
Play Now
Enter you childhood dreams and welcome to the world of goblins and fairies but this world also includes ogres so beware. Not everything that glitters is gold! There are mushrooms, magical books and jewels to help you on your way. This is a world of trolls and treasure chests where you have to avoid the trolls in order to win the riches in the treasure chests.
Goblin's Treasure Slots will take you away to a fantasy land and will blow your mind with its rich rewards. Become part of this exciting world where you can become friends with the little folk. This is something that most of us would love to do as there is a child in all of us. So it is time to start playing Goblin's Treasure Slots and to start winning.
This is a 5-reel slot with 25 pay lines of fantasy fun. There are also two random jackpots and you also have up to five times multiplying wilds, and free games. To make double sure that you do win, there is a win-win feature which is triggered automatically and gives you rewards when you do not win enough coins. What are you waiting for? In Goblin's Treasure Slots you can never lose. This is the land where goblins rule, and ogres drool, and you are an important part of this new world.
A progressive jackpot is a jackpot that turns up randomly during the game when you least expect it. You can randomly win a progressive at any time during the game. The more games you play the more chances you have of winning the random jackpot especially if as in Goblin's Treasure Slots, there is not one but two jackpots. This ensures you a double chance of winning the progressive jackpot irrelevant of how much money you have wagered. The trick is to play as much as possible. In this way you are almost sure to take a good part of that jackpot home with you. So what are you waiting for?
In Goblin's Treasure Slots the wild symbols are the Goblin symbol and the Treasure Chest symbol. The Goblin symbol and the Treasure Chest symbol do not substitute each other. The Goblin wilds appear on reel 1 only and the Treasure Chest wilds appear on reel 5 only. The Goblin wild symbols will sub for all, except for the Chest and Castle scatters. The Treasure Chest Wild substitutes for all, except for Goblin Wild and scatters. Goblin wilds; however many goblins are in the picture is the multiplier. If you get a Goblin Wild anywhere on reel 1 and a Treasure Chest anywhere on reel 5 to trigger the free games feature.
Goblin Castle is the scatter. Two or more castle scatters will pay when they land anywhere on the reels. Five Castle scatters on the reels will pay 200 times the bet.
The Goblin's Treasure Slot Free Games Feature is triggered when a Goblin Wild appears anywhere on Reel 1 and a treasure Chest Wild appears anywhere on reel 5.
Whenever you are tired of playing manually you can always opt to use the Autoplay button. This not only serves to allow you to relax but you can also do other things while you let the reels roll and pile on loads of money for you. This also makes your game go faster and whenever you decide you do not want to use Auto play anymore, all you have to do is to stop it manually. Otherwise Auto play will automatically stop when you run out of money.
You can practise Goblin's Treasure Slots by using fun money and gain experience in this game in this way. When you feel that you are confident enough to try your luck and win big, you can then start to use real money.
Goblin's Treasure Slots is a game of luck. In order to see results and win big you need to have patience and play for an extended period of time. It is important that you put aside an amount of money to play with and not to go over that amount. When you have played it all, that is your limit, do not bring out any extra money. This way you can control how much to play and know your limitations. Know when to stop. When the fun stops - stop! Stopping at the right time can make a difference between having fun and losing money by going over your limit.
So what are you waiting for? Start playing Goblin's Treasure Slots today and discover the treasure that lies within, while increasing your possibilities of winning and discovering free games. Take part in the two Random Progressive Jackpots and win when you least expect it. All in all have a great time playing Goblin's Treasure Slots!