Basketbull Slots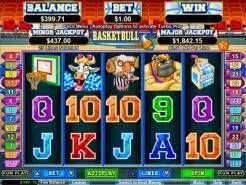 Current Jackpot
$3,342.15
Play Now
Some slot game titles almost look as though they contain a misprint or spelling error. You would certainly think that was the case with Basketbull , which should surely be basketball? Well, no, not in this case, because we will see animals getting to grips with the rules and challenges of basketball, hence the title. With two themes essentially rolled into one here, will you appreciate everything that is laid on for you when you spin the reels of this game?
Combination of reels and win lines
The format RTG has gone for with this game is one they have used many times before. Five reels give us 25 lines to bet on.
Coin values to consider
One cent per line to five dollars per line – those are the outer reaches of the coin collection you can use here.
Basketbull special symbols to look for
You might expect one of the animals to be a bull, and this does indeed make an appearance as the wild symbol. Now, can you put together a paid line with five bulls on it? If so, you will win an amazing 10,000 coins for your achievement. You will also see a scatter icon as you play the Basketbull slot. This appears in the shape of the basketball itself.
Bonus features
Can you try and bounce three basketballs onto the reels at the same time? If so, you are in line to get three free games. Only three, we hear you say? Wait just a moment. Before those spins begin, the bull takes a few shots at scoring some hoops. Three, four, or five triggering scatters get the same quantity of hoops to go for. The more hoops the bull manages to score, the bigger the quantity of additional games you will get. There are 96 freebies up for grabs here. Whichever quantity of games you end up with, you are guaranteed to get a 3x multiplier to boost the value of all the prizes you might win.
Download and play the Basketbull slot today
This game gives us a strange mix of themes, doesn't it? We bet you never thought you would see bulls playing basketball, but you will find yourself hoping the bull in this slot is rather good at it. If he is, you will get more free games for his efforts. That's never a bad thing, and it could lead to multiple prizes too.