T-Rex Slots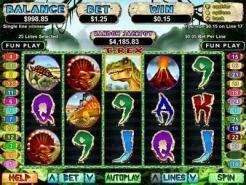 Current Jackpot
$3,252.26
Play Now
Enter an exciting adventurous Jurassic world when dinosaurs ruled the earth in this spectacular game of T-Rex Slots featuring dinosaurs like you have never seen them before. Enjoy finding out what life was like all those millions of years ago. This is not an easy venture which you have embarked upon as danger lurks all around you. You have to avoid the tyrannosaurus as he is at the top of the food chain and he is out to get you. Are you capable of finding the treasures in this DINOmite game of T-Rex Slots and avoiding all the dangers along the way?
Enter a lost world of dinosaurs where all around you there is danger and excitement for those of you willing to take the risk and fight through the ordeals which lie ahead. Are you will to take the risk and enter into the dinosaur world? Join the dinosaurs in their quest for hidden treasure. Become a dinosaur yourself and forge your way to find the treasure ahead.
Have you ever wondered what it would be like to live in a world of enormous dinosaurs and to discover a wonderful new and exciting world full of treasure? Well now you can get down to it and enjoy a great experience while enjoying your favourite game. Sound too good to be true? Well then get ready to join this quest for riches which are hidden all around. T-Rex Slots takes you into a Jurassic world where the tyrannosaurus is right at the top of the food chain. If you can get away from this dangerous creature, then all the riches can be yours for the taking. Enter the exciting world of dinosaurs in this wonderful game of T-Rex Slots.
This 25-line slot game includes wild symbols to help you win more often as well as having a Progressive Jackpot that helps you win ferocious rewards when you least expect it. So what are you waiting for? Get ready for a new exciting adventure with progressive jackpots which can be triggered at random at any given time when you least expect it. You will feel as though you have stepped back in time with this Jurassic themed game of T-Rex Slots. You will make winning combinations when you hit the wild symbols.
Although the dinosaur symbol is frightening, playing T-Rex Slots is far from scary. Increase or decrease your wagers by clicking the Bet arrows and the Lines arrows. You can bet from 1 cent to $5 per line. There are 25 lines and when you are happy with your selection just hit the Spin button. When the reels come to a stop, you will be paid out according to the pay schedule. If you would like to know what the pay schedule is then all you have to do is click the Help button which is at the bottom right hand corner of the game.
You can also use the Auto play button. The Auto play will play your game automatically and you can sit back and watch your riches increase as you enjoy playing the game of T-Rex Slots. Auto play will automatically speed up your game. You can stop the Auto play mode either by stopping it manually yourself or else it will stop playing when you run out of money.
T-Rex Slots has many exciting symbols. The symbol of the T-Rex is a substitute symbol and it can substitute for any other symbol to help you make winning combinations, except for the Egg symbol. If the T-Rex appears in a winning combination, your prize is doubled. If you hit three or more Egg symbols, you will earn up to 30 free games where no credits are taken from your bankroll.
T-Rex Slots is a game of luck. In order to see results and win big you need to have patience and play for an extended period of time. It is important that you put aside an amount of money to play with and not to go over that amount. When you have played it all, that is your limit, do not bring out any extra money. This way you can control how much to play and know your limitations. Know when to stop. When the fun stops - stop! Stopping at the right time can make a difference between having fun and losing money by going over your limit.
So what are you waiting for? Jump into this Jurassic world and Start playing T-Rex Slots. You will surely have yourself one great and rewarding adventure. Play your game and try to avoid the tyrannosaurus. T-Rex himself will be helping you out along the way. Enter the wonderful world of dinosaurs and discover the riches and adventure that lies within. One thing is for sure - this game is definitely DINOmite!